Welcome to Annehurst Veterinary Hospital in Westerville, OH
Westerville Oh Veterinarian: 25 Collegeview Rd.  Westerville, Oh. 43081 | 614-882-4728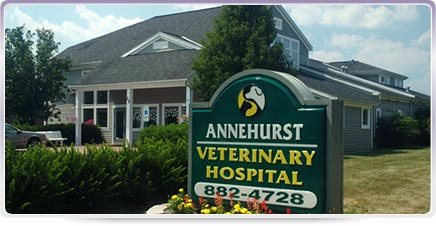 Annehurst Veterinary Hospital is a full service vet clinic offering wellness & vaccinations, medical services, surgical services, 24-intensive care, adoption & rescue, health screening tests, reproduction services and more.  Annehurst Veterinary Hospital serves Westerville, Ohio and areas within both Franklin and Delaware counties.  We specialize in overall veterinarian care and are an Emergency Vet serving Columbus Ohio.
Contact Westerville Ohio's #1 Veterinarian today.
Give us a call at 614.882.4728 to find out more about our services and set up a consultation today!
Hours of Operation
Monday through Friday7:00am to 9:00pm
Saturday8:00am to 4:00pm
Sunday (boarding only)4:00pm to 6:00pm
We offer drop off services to our clients with busy schedules.  
Westerville Oh Veterinarian:  Annehurst Veterinary Hospital
We started our Veterinary Practice in 1967 and we are located at 25 Collegeview Rd, Westerville, OH 43081.
Parking: Ample parking space is available.
Services: Wellness & Vaccinations, Flea Control, Dentistry, Radiology, Dermatology, Spaying/Neutering, Declawing, Health Screening Tests, Emergency Care, Adoption & Rescue, Online Pharmacy